---

Go Outside
---


Click here to mail me!
---
Update!
I am a fan of Knight Rider, unfortunately I not much to put in quite yet but as soon as I can get a pic of Knight Rider that will link to a Page all about it...
I have UPDATED the site! So take a look round, still more to come!
Meanwhile check out Market Makers! for your best marquees and tentage and low prices!
Eskimowear for your ski wear and hardware!!!
To come! Sponsorship/Pictures/About me!/chat/HTML help/wrestling/freestuff/search engines/maybe celebritys like Britney Spears and our lovely Billie Piper!
Look I have a message thing... so post some messages to me!!! Ask questions!!! But first click here! to get to it! :o)



Visit my Member Forum at Deja News.

---
Awards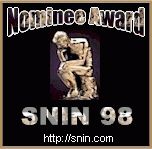 ---
[Home]
[Front Page]
[Market Makers LTD]
[Overkill]
[Music]
[ICQ Exploit]
[Eskimowear Ltd]
[Home2]
[Home3]